J1939 - NexSysLink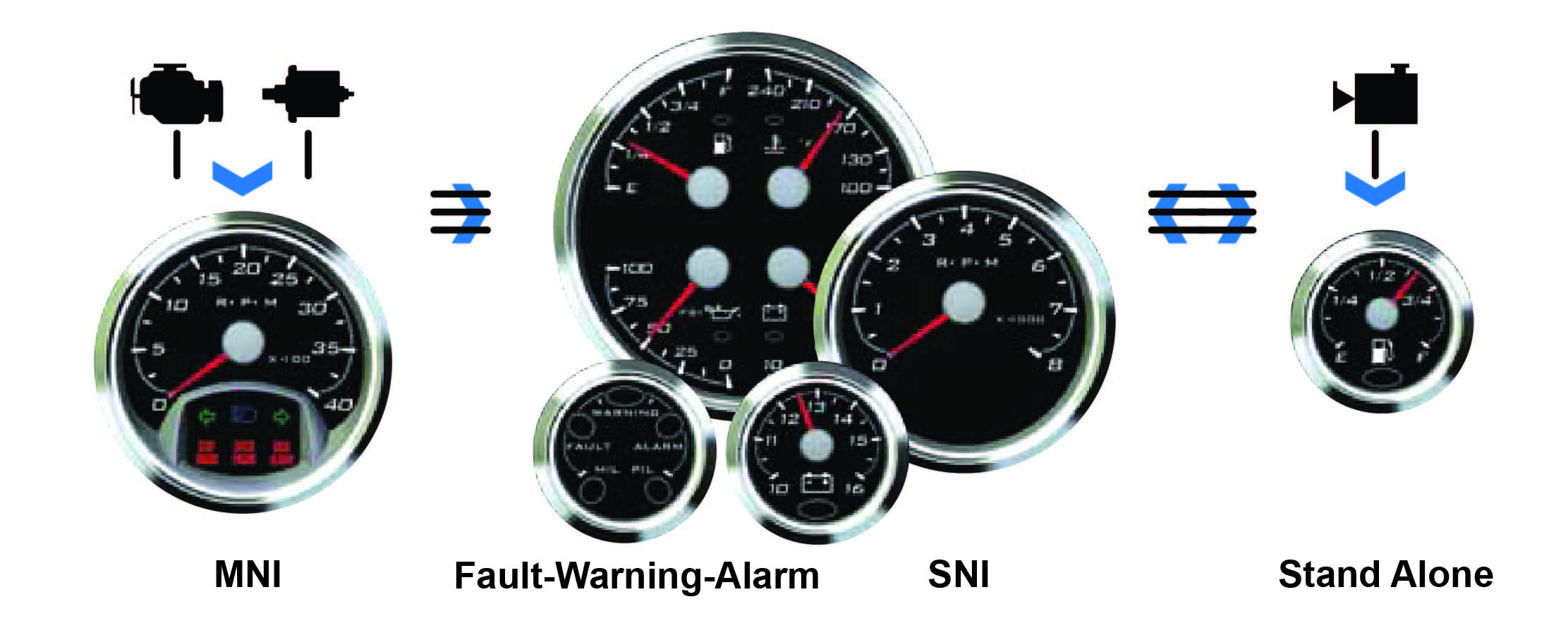 ---
Description
NexSysLink®, as its name implies, is the next generation instrumentation system from Faria Beede that connects you with critical operating data transmitted by CAN (Controller Area Network) based apparatus. Suitable for a wide range of industries and applications, these instruments combine the best of analog and digital display technologies that provide the ability to quickly and accurately read industry standard CAN protocols.
Thoughtful, expert design fills NexSysLink® instruments with practical and functional features users expect and appreciate. An intuitive menu driven user interface allows you to quickly configure and use the instruments according to your needs. Three discrete inputs give users the freedom to choose the style and location of interface menu switches (Mode/Enter, Up, Down) to improve the ergonomics of panel designs such as eliminating the awkwardness of reaching through a steering wheel. Configurable alert notification settings are easily tailored to prevent costly breakdowns or repairs of your equipment. Simple system wiring features a rugged, sealed and widely used connector to significantly reduce installation time and costs.
---
A family of instruments that provide you the option of choosing between a fully integrated daisy chain approach or a group of discretely wired stand-alone instruments. Adding additional instruments, regardless of the approach, always remains an option.
---
Master Node Instruments (MNI)
Reads and processes CAN and/or analog sender data then transmits to all slave node instruments using a three-wire daisy-chain harness.
Available in 3 or 5 inch sizes.
LCD displays operating parameters
Lockable menu options
Up to three analog input channels
Slave Node Instruments (SNI)
The SNI receives and displays data transmitted by a Master Node Instrument (MNI) The instrument provides a full 250° pointer sweep and a large engine fault and warning indicator. Multiple gauge styles and ranges available, including; Air PSI, DEF level, Temperature, Voltmeter and Ammeter. Gauges available in single scale and dual scale instruments.
Available in 2, 3 or 5 inch sizes.
Multi-gauge configurations available
Engine fault and warning indicator standard on all SNI?s
Fault-Warning-Alarm (SNI)
Receives and displays data transmitted by an MNI Provides users with additional fault and warning.
Available in 2 or 3 inch sizes.
Relay ouputs
Audible alarm output with mute option.
2" Analog SNI (ASNI)
Receives data directly from analog senders and transmits information back to the MNI for display on the LCD. A perfect way to expand analog inputs beyond the those found in the MNI.
Supports resistive or voltage type senders.
User settable alarms through MNI interface
Illumination intensity set and controlled through MNI.
2 inch Stand-Alone Node Instruments
When your application requires each individual instrument to read and process CAN data directly from an ECU or analog sender, NexSysLink® instruments will satisfy that need as well. With this approach, each instrument connects directly to a CAN signal or sender and processes the information independently. Stand-alone instruments can enhance a fully integrated approach by allowing you to mount the instrument remotely from the main dash instruments without having to connect back to the main dash. This reduces wiring costs yet places ECU or sender information exactly where you need it.
Connects directly to a CAN data bus or analog sender. The choice when only a few parameters need monitoring or to complement an existing factory installed digital display.
Various instruments included but not limited to:

DEF
Coolant Temperature
Oil Pressure
Oil Temperature

Two factory set warning fault indicators

Amber (flashing)
Red (steady)
Features
SAE J1939 CAN protocol support
Large transflective dot matrix LCD
Advanced stepper motor technology
Supports up to three discrete analog sender
Displays faults and warnings inputs including NMEA 0183 (GPS/Smart Transducer)
Drives up to sixteen Slave Node Instruments (SNI)
Expandable to ten analog inputs using factory custom configurations and setups
Analog Slave Node Instruments (ASNI)
Bright LED illumination
Bold, easy to read graphics
Domed or flat glass lenses
Environmentally sealed connectors
---
Gauge Sizes Available:
2" - Hole size: 2.0625" (53mm)
4" - Hole size: 3.375" (85mm)
5" - Hole size: 4.375" (112mm)