---
Measures only 4.56" x 2.25" x 1.125"
(115mm x 57mm x 29mm)
Weight: 6.5 oz. (185 g)
---
FB-Sentry and the WD315 is a complete web based tracking package providing GPS location for long term monitoring.
Locate your assets and know ambient temperature even when the asset loses power. This small self contained device monitors your assets location with GPS and supports location with Cellular Tri-location using cellular tower information when GPS signal is not available with accuracy from 50 to 880 yards.
The 5000 mAh lithium back-up battery provides for long term reporting, when disconnected from power, up to 24 months. This device, once activated, can not be tampered with and turned off mechanically. However, the owner has complete control using over the air technologies, preventing disabling.
View your assets location and get directions to your asset on the FB-SentryGPS.com website. The secure website is password protected and can view all activated assets on a single page. Drill down and get individual asset information.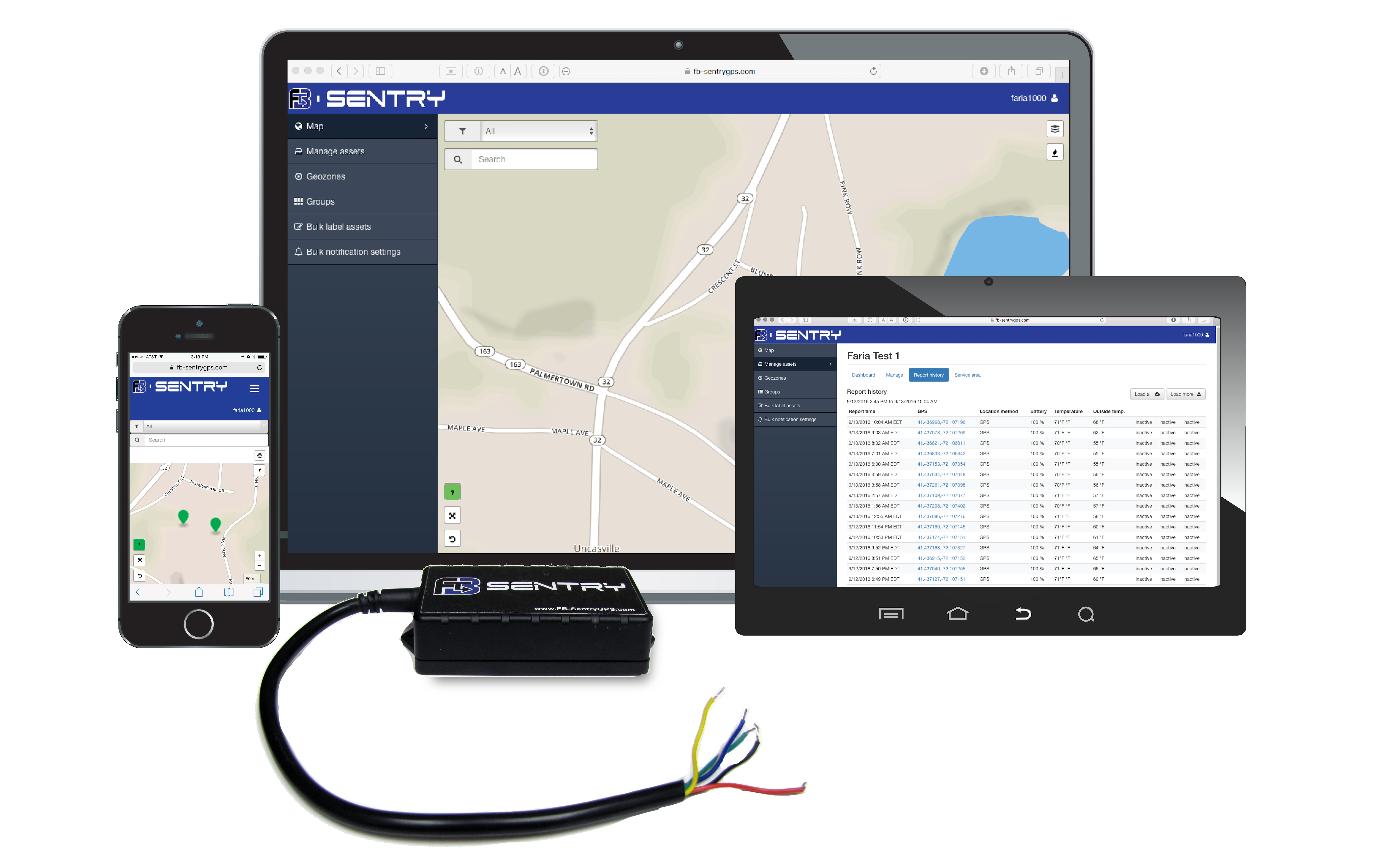 Cellular Tri-location
If GPS signal is unavailable (for instance if asset is in metal building), the Faria Beede WD315 will use cellular tower information for a low-precision location. Accuracy is not possible, but reliable, general location information is available. Precision within ½ mile is about average at this time, but location within 50-880 yards is possible.
Benefits
Magnetically, Temporary or Permanent mounted for easy placement

Can be mounted inside or outside

Built in GPS and Cellular antennas
The system comes standard with a five (5) wire harness capable of:

Battery voltage monitoring

Continuously connected power
Recharges the 5000 mAh internal back-up battery

Key-switch Monitoring

Automatically triggers 5 minute tracking intervals

Float-switch monitoring

Immediate notification of high water

Magnetic Trigger Activation
GPS and Cellular Geo-Location & Tracking
Rated for temperature down to -50˚C (-58˚F)
Built-in thermistor measures and reports temperature at the device
Reporting Cycle

5 minute reporting while in motion
(key-switch - on)
3 hour reporting while at rest
(key-switch - off)

When you are away from Cellular service the system can store up to 20,000 reports and downloads when back in range.
Reports position every 7 minutes when in motion with comprehensive GPS Tracking and Routes.
---