J1939 - Universal Control Panel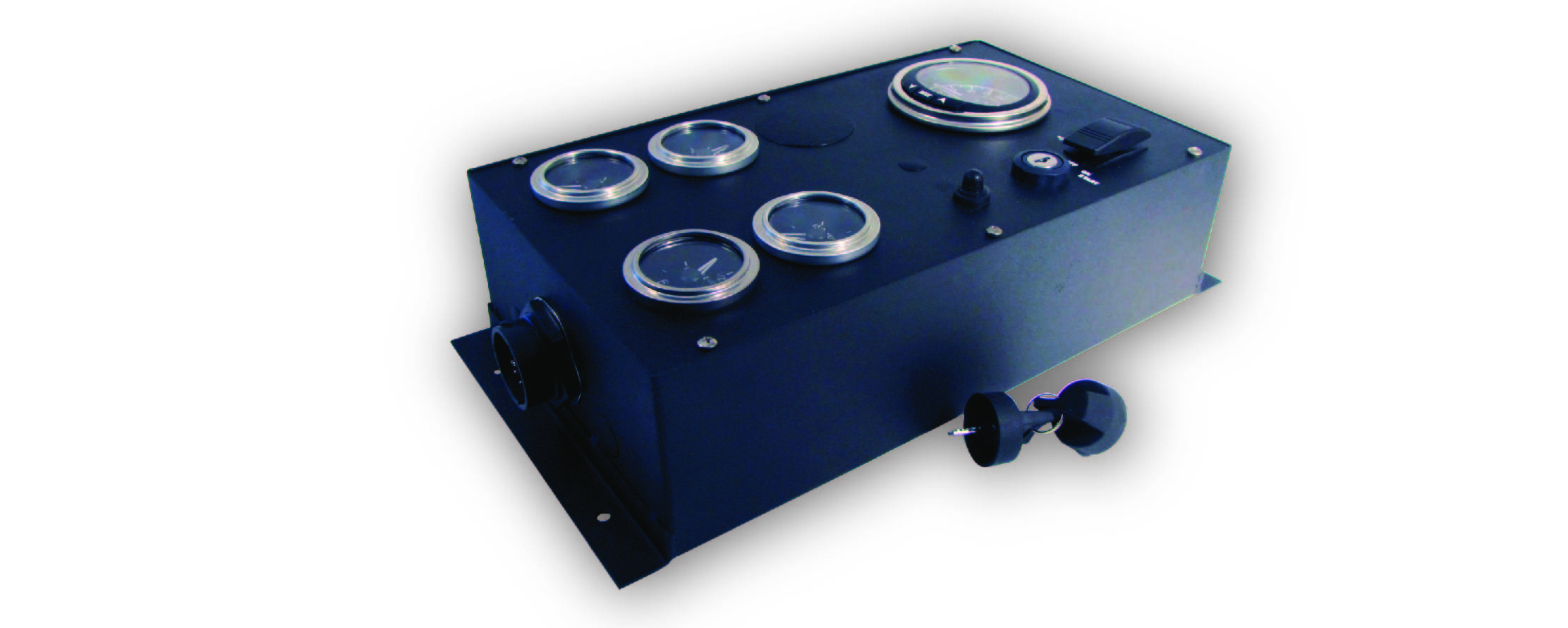 ---
Description
For Electronically Governed Engines
The M150L Series Control Panels are a universal platform of products designed to control J1939 electronically governed engines. With a family of panel configurations ranging from panel mount to single gauge to multi-gauge and a NEMA 4X enclosure virtually any installation can be met. If a panel or enclosure is not required the M150L series offers a kit containing all necessary parts that can be mounted in a customer specific panel design.
With a full featured J1939 interface the M150L15 series panels provide a complete interface for virtually any SAE J1939 data. With standard features such as "TSC1 Throttle Control", "Fuel Level Input", "Engine Oil Pressure" and "Engine Shutdown", the M150L provides the most features in the price range. The gateway interface is available in a 4 inch or 5 inch configuration. The standard L15 configuration is shipped with oil pressure, engine temperature and voltage expansion gauges. A variety of panel configurations are available.
Using the traditional look of a round gauge and the latest microprocessor technology the M150L15 series products provide the user with a traditional "look and feel" for controlling the latest electronic engines. Incorporating the latest technology allows the M150L products to be fully scaleable from a single gauge solution to a full feature multi-gauge applications.
---
Display
The 128x64 LCD display provides an easy to read viewing area for system configuration and virtually any data reported by the ECU.

Throttle Control
A single momentary rocker switch adjusts the engine speed via CAN Bus communications to the engine. The throttle functionality is user selectable allowing the rocker switch to provide a smooth ramp function or a fixed rpm 2-State setting.

Enclosure
All M150L15 Series Control Panels are made from 14 gauge cold roll steel with welded seams. All units are powder coated to provide durability under extreme conditions. The L15 series panels provide 4 or 5 inch and 2 1/16 inch gauge openings to allow a choice of expansion gauges including traditional switch gauges.
Connector
A water tight 21-pin connector is used for plug-in installation.
Configurable Engine Speed Limits
The L15 Series Control Kit provides the user with two configurable engine speed settings. These speed settings can be set to any engine rpm within the min and max rpm range of the engine. One speed setting for minimum engine speed (i.e. idle) and the other speed setting for maximum engine speed (i.e. engine run speed)

Alarms
The M150L displays diagnostic messages from the ECU per J1939 format. All DM1 and DM2 diagnostic messages from the Engine ECU are reported. Engine specific diagnostics messages are available for specified engines. (See part number section for list of specific engine types.) Alarms are indicated with a Red LCD display backlight. Warnings are indicated with an Amber LCD display backlight.

Engine Shutdown
A contact closure to ground for Engine Shutdown is provided as a customer input. When activated the M150L System will remove ignition voltage to the engine stopping the engine. The system will provide an alarm popup screen to signal the operator that the engine was remotely shutdown.
Fuel Level
User configurable analog input for fuel level sensors. US 240-33 and Euro 10-180 ohm senders can be selected.
Maintenance Interval
User configurable maintenance interval. When programmed system provides warning message when maintenance interval has expired.
Features
Tier 4 Compatible
Analog Input for Fuel Level
Analog Input for Engine Oil Pressure
User configurable engine speed limits
Programmable throttle operation
Engine Maintenance Interval
SAE J1939 compatible throttle control
SAE J1939 compatible Diagnostics
RGB LED backlighting multi-color display lighting
Multi Language Support
Remote Engine Shutdown
Discrete gauges available
Audible and Visual Alarms
INPUTS

J1939 Engine Data
Oil Pressure
Fuel Level
Remote Engine Stop
---
Gauge Sizes Available:
4" - Hole size: 3.375" (85mm)
5" - Hole size: 4.375" (112mm)
---
Parts available
| Catalog # | Factory # | Size | Description |
| --- | --- | --- | --- |